Natural skin care has 5 tips for great looking skin
Tip 1, Get gorgeous, younger looking skin by eating these essential face-saving items you can find at the grocery store. Foods high in kin-strengthening omega-3 fatty acids, Collagen-boosting vitamin C, Bell peppers, Strawberries, Citrus fruits, Kale and broccoli, And antioxidant-rich vitamin A and E. (Almond butter, Swiss chard, Wheat germ, Pumpkin, Sweet potatoes, Carrots)
Tip 2, Cut through the anti-aging aisle and focus on three products. If you have sunscreen, Retinoid, And moisturizer starting at age 20 your skin will look much younger compared to someone who didn't use them , Apply SPF  a brand I recommend is Eucerin, A sunscreen use every morning is a must along with keeping cells plump and hydrated with moisturizer.
Tip 3, Retinoids are where the magic happens says Dr. Brown dermatologist consistently recommend them because the vitamin A derivative essentially teaches your skin to act young again stimulating the collagen that prevents fine lines, He says.
Tip 4, Consider a prescription for a retinoid like tretinoin to minimize signs of aging such as uneven skin tone, Wrinkle, and age spots in my years of experience with great looking skin I suggest skin care products with botanicals such as fever few or licorice root. They have antioxidant activity to combat UV damage.
Tip 5, We all want to look great as we age. And we all know that woman she's on us from head to toe and carries herself like she means it, Defying aging with every step, With the best skin. So what's she doing let's see how to take care of your skin, Hair, and body, And drum up youth-boosting confidence no matter how many birthday candles
are on your cake.
We asked dermatologist to share their favorite products that you can find at a drugstore or retail shop, Here's what they said, Francesca J. Fusco MD. Dermatologist pick: Patricia Wexler MD. dermatology de-puff eye gel $19.50 why " I keep It in the fridge,
And put it on while I'm making coffee in the morning". She says it immediately shrinks and tightens the skin the fast-acting skin-firmer (Including fortified yeast complex and caffeine). Are paired with a patented, Long-term tightening agent.
Ava Shamban MD. Founder of the Laser Institute for Dermatology and European skincare in Santa Monica, California pick: Once weekly she slathers on NeoStrata youthful exuberance rejuvenating treatment masque $22 www.neostrata.com. Why this line, founded by a dermatologist and researcher  features natural fruit and veggie acid-aka alphahydroxy acids (AHAs) and polyhydroxys (PHHs) which exfoliate skin.
I love papaya for the skin internally and externally. We have been using these rich nutrients and antioxidants in our nutricential skin care for years. The pure cleansing gel product description- deep cleanses and clarifies pores. Nutrient rich tropical papaya helps woman maintain a radiant complexion. Nu skin brings the benefits of papaya to pure cleansing gel. An enzyme from papaya called papain frees pores of oil, Dead cells, Make up, and Pollution, Clearing The way for refined, Healthier looking skin. Pure cleansing gel's soap-free, Foaming formula balances oil without overdrying leaving skin fresh, Clean and energized.
If you are someone who absolutely will only use one skincare moisturizer both day and night. It is better to have one with sunscreen, Since sunscreen is the best way to prevent premature wringles, If you want to have a healthier skin that looks much younger, All you have to do is to allow your body to have proper nutrients when it comes to skin care.
The best, Most potent and most stable form of vitamin C. Makes quite a difference to the appearance of mature, Photo-damage skin don't expect results over night but with consistent use your skin will look more even and radiant.
What results could I expect with Enbrel In 2004 Enbrel has been approved to help people get clearer skin that last. Enbrel has been prescribed by Dermatologist for thousands of adults with chronic moderate to severe plaque psoriasis who are candidates for systemic therapy or photodermatosis and also Stelara clearing acne helping prevent new breakouts and for ensuring clear and radiant skin you deserve.
About psoriatic arthritis, Over one million people have this condition, To find an appropriate treatment to relieve your joint and skin symptoms, Your family doctor can refer you to a rheumatologist, Which is a doctor who specializes in treating conditions like psoriatic arthritis.
AcnEase all natural botanical acne treatment for adults acne, Acne scar, Teen acne AcnEase is a safe and natural acne treatment made from herbal botanicals.
This is a great skin care product that you must try ORDER NOW.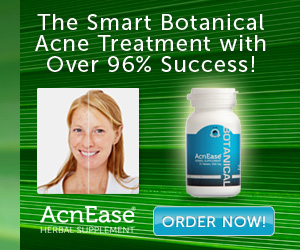 I hope you enjoyed this review and if you have any questions about skin care or want to leave your own personal review please do so give a comment below.
2 Comments